English ver 3 (Cooling)
Sold: 0 Uploaded:
21.04.2015
Content: 50421233951233.rar
18,82 kB
Product description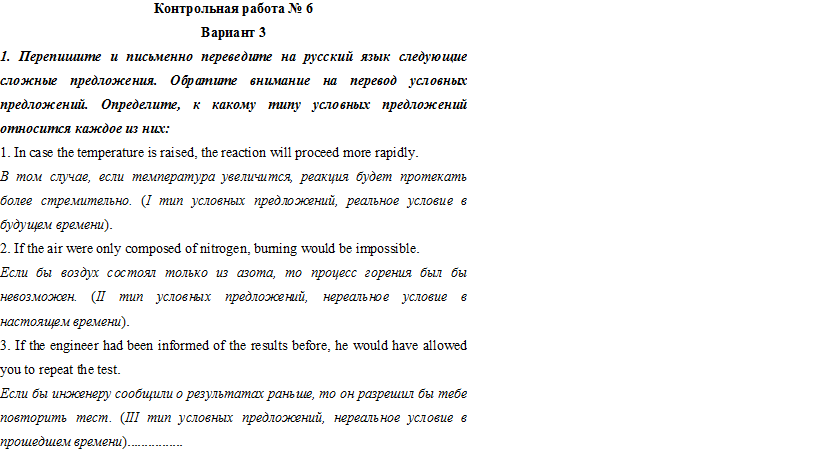 Examination number 6
Option 3

1 Copy writing and translated into Russian by the following complex sentences. Pay attention to the translation of conditional sentences. Determine what type of conditional sentences applies each of them:
1 In case the temperature is raised, the reaction will proceed more rapidly.
2 If the air were only composed of nitrogen, burning would be impossible.
3 If the engineer had been informed of the results before, he would have allowed you to repeat the test.
4 Had he all the necessary materials, he would accomplish his model in time.
5 Were it possible to learn how birds find their way, people would use the principle to develop a navigation system for aviation.

2 Rewrite each of the following two proposals, forming proposals unreal conditions:
a) relating to the present or future (II class);
b) relating to the past (III type):
1 Will you be very angry if we do not come?
2 If we receive a telegram from him, we will not worry.
3 If you are busy, I leave you alone.

3 Expand the brackets, using verbs in the required form. Turn suggestions on the Russian language:
1 If you spoke English every day, you (to improve) your language skills.
2 If he (to come) to our house yesterday, he would have met his friend.
3 If he (not to pass) his examination, he will not get a scholarship.
4 I (to be) in a very difficult situation if she had not helped me.
5 If my friend (to be) at home, he will tell us what to do.
6 You would not feel so bad if you (not to smoke) too much.

4 Read and writing move the following text:
Cooling
At the moment of explosion, the temperature within the cylinder is much higher than the melting point of cast iron. Since the explosions take place as often as 2000 times per second in each cylinder, the cylinder would soon become so hot that the piston, through expansion, would «freeze» in the cylinder. The cylinders are therefore provided with jackets, through which water is rapidly circulated by a small pump driven by a gear on the crankshaft or camshaft. During cold weather, the water is generally mixed with a suitable antifreeze, such as alcohol, wood alcohol, or ethylene glycol.
To keep the water from boiling away, a radiator forms part of the engine-cooling system. Radiators vary in shape and style. They all have the same function, however, of allowing the water to pass through tubing with a large area, the outer surface of which can be cooled by the atmosphere. In air cooling of engine cylinders, various means are used to give the heat an outlet and carry it off by a forced draught of air.

5 Ask specific questions to the following proposals:
The cylinders are provided with jackets, through which water is rapidly circulated by a small pump driven by a gear on the crankshaft or camshaft.

In order to counter copyright infringement and property rights, we ask you to immediately inform us at support@plati.market the fact of such violations and to provide us with reliable information confirming your copyrights or rights of ownership. Email must contain your contact information (name, phone number, etc.)