Insurgency ( steam gift RU + CIS )
Продаж: 121
последняя 19.11.2015
Возвратов: 0
Загружен:
29.09.2015
Содержимое: текст
97 символов


Продавец

PowerSeller:D
информация о продавце и его товарах
Описание товара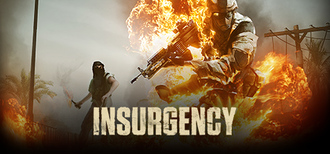 Внимание! Внимание! Сразу после оплаты вы получите уникальную ссылку на активацию игры Insurgency в стим клиенте !!!

--------------------------------------------------



Об игре

Take to the streets for intense close quarters combat, where a team´s survival depends upon securing crucial strongholds and destroying
enemy supply in this multiplayer and cooperative Source Engine based experience. The follow-up game to the award-winning Source mod,
Insurgency is highly competitive and unforgivingly lethal, striking a balance between one-life gameplay and prolonged action.

Features

Over 20 weapons with numerous attachments, no crosshair, and a focus on realistic weapon behavior including a free-aim system and intense
suppression effects.
12 multiplayer and cooperative maps that take place in 6 distinctive environments ranging from Iraq to Afghanistan to Somalia.
5 multiplayer game modes supporting up to 32 players, with a focus on territorial control, destroying weapon caches and escorting high value targets.
2 cooperative game modes where you and your friends team up to complete mission-based objectives or defend an outpost against waves of swarming enemy.
Squad system built upon role-based player classes, which are customizable and asymmetrical based on what team you are on.
Squad-based communication system which includes 3D VOIP, allowing friendly and enemy players within proximity to hear you.
Overhead map detailing objective and teammate locations.
Accumulate supply to customize and upgrade your gear, affecting your weight, stamina, and movement speed.
Simplified HUD and UI for a clean, immersive user experience focused on the action and environments.
Highly immersive particle FX and audio to intensify the game experience.
Create custom maps and content using the Insurgency SDK and scripting system.
Playable on both PC and Mac OSX and supports multiplayer cross-compatibility.
Dedicated Server Support for PC and Linux.

Multiplayer Game Modes:

Skirmish --- In addition to three territorial objectives, each team has a supply cache to protect. Teams gain extra reinforcement waves
until their cache is destroyed. When both teams have lost their caches and all reinforcement waves, it becomes a Firefight match.

VIP --- One team must escort their VIP player to the extraction point. Both teams only have one life per round, so coordination is paramount.
The VIP is only armed with a silenced pistol, but can pick up a weapon from a fallen enemy or teammate.

Strike --- This attack and defend mode has three weapons caches that must be discovered and destroyed. Blowing up a cache brings additional
reinforcement and time for the attackers, while the defenders lose a reinforcement wave.

Search & Destroy --- Two supply caches are hidden in three possible locations. Attackers must locate and destroy each cache or eliminate all
enemy to win. Both teams send in reinforcements only when a cache is destroyed.

Firefight --- Three territorial objectives, one for each team, plus one neutral. Each team only respawns when they secure an objective. Secure
all objectives or eliminate all enemy to win. Every life counts, making this a very suspenseful experience dependent upon teamwork.


Инструкция к игре:

1. Необходимо скачать и установить Steam клиент по ссылке: http://steampowered.com/download/SteamInstall.msi либо войти в уже установленный
2. Полученную ссылку при покупке вставить в строку браузера
3. Ввести логин и пароль в стиме
4. Нажать "принять подарок"
5. Далее вы можете выбрать добавить игру в библиотеку,либо положить в инвентарь
Отзывы
15
Отзывов от покупателей не поступало.
В целях противодействия нарушению авторских прав и права собственности, а также исключения необоснованных обвинений в адрес администрации сайта о пособничестве такому нарушению, администрация торговой площадки Plati (http://www.plati.market) обращается к Вам с просьбой - в случае обнаружения нарушений на торговой площадке Plati, незамедлительно информировать нас по адресу support@plati.market о факте такого нарушения и предоставить нам достоверную информацию, подтверждающую Ваши авторские права или права собственности. В письме обязательно укажите ваши контактные реквизиты (Ф.И.О., телефон).

В целях исключения необоснованных и заведомо ложных сообщений о фактах нарушения указанных прав, администрация будет отказывать в предоставлении услуг на торговой площадке Plati, только после получения от Вас письменных заявлений о нарушении с приложением копий документов, подтверждающих ваши авторские права или права собственности, по адресу: 123007, г. Москва, Малый Калужский пер. д.4, стр.3, Адвокатский кабинет «АКАР №380».

В целях оперативного реагирования на нарушения Ваших прав и необходимости блокировки действий недобросовестных продавцов, Plati просит Вас направить заверенную телеграмму, которая будет являться основанием для блокировки действий продавца, указанная телеграмма должна содержать указание: вида нарушенных прав, подтверждения ваших прав и ваши контактные данные (организиционно-правовую форму лица, Ф.И.О.). Блокировка будет снята по истечение 15 дней, в случае непредставления Вами в Адвокатский кабинет письменных документов подтверждающих ваши авторские права или права собственности.