WarBirds - World War II Combat Aviation - 2018 Gift/Ru
Продаж: 0 Загружен:
20.11.2018
Содержимое: текст
63 символов
Описание товара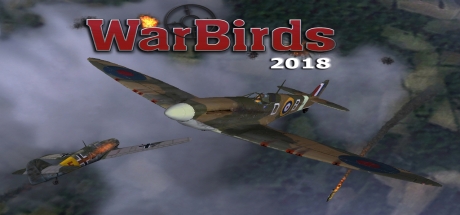 WarBirds - World War II Combat Aviation [Steam Gift/RU+CIS]

WarBirds 2018 is here!
The world famous WarBirds 2018, Combat Flight Simulation, in its 22th year, is not for sissies! WarBirds takes real flying skills and IS NOT an arcade game. Fly and Fight well and you will survive! Fly badly and you will just be known as "target".

The new WarBirds 2018 has many new updates including: new terrains Wasteland, North Sea, Canyon and more; redone flight models for most of the Axis aircraft from recently discovered additional flight logs of the original aircraft; and new and improved weapon delivery systems. The new Squadron Select Series just kicked off for 2017-2017 with Operation Market Garden, an attempt of the Allies to break through the Axis lines in the low country of Holland. Hawker Typhoons and Spitfires battle Me-109s and FW-190s for air supremacy!

WarBirds can be played either in single player "solo" mode with computer-controlled enemies, or online with human and computer-controlled allies and opponents.

Single player WarBirds offers over 20 flight training modules, 12 instant action missions from Bomber Ambush to Rear Gunner action, and a Free Flight mode where the player can pick from 5 different combat game modes, from Air to Air, Free Flight, Target Drones, Bomber Ambush, or Ground Attack in one of over 15 geographic terrains, and choose to fly one of over 120 aircraft and ground vehicles. Gamers choose one of three levels of pilot expertise: Rookie, Veteran, or the highly skilled Ace. In each air battle the player can score points, build rank and acquire medals on the road to the coveted title of WGFP, "Worlds´ Greatest Fighter Pilot!"

Online WarBirds is free to purchasers of the Steam version of WarBirds. Online you can sign up for personal training with WarBird´s corps of flight instructors, compete in air-to-air action against other real players in online combat and join online squadrons. Go on raids with squadron mates and participate in special events that reenactment many of the great battles of World War II. More information about the WarBirds online community is available at http://www.Totalsims.com. In addition, for no charge, all WarBirds Online players have access to a TeamSpeak 3 server. This allows online players to use voice communication within the game.

While WarBirds Online is free, IENT is a business, so of course there are limitations. During the first month online, you have complete access to all features at no charge. After the first month, you can still play free, but you are limited to an early war plane set, which varies from arena to arena. To access the full set of all aircraft in all arenas, Steam players can purchase day, week or month passes, which range from $2.99 to $15.95. If you just want to play in a specific event on a specific day, the Day Pass is best for you. If you want to play with the best planes, against the best players, whenever you want, the Month Pass is your best choice.

WarBirds 2018 continues to dedicate itself entirely to remarkable historical accuracy and detail. After 22 years it is still one of the most impressive WWII combat flight simulations available. Choose from countless online scenarios, modes and options that give WarBirds a stunningly deep playing experience. Pick from an array of WWII aircraft and vehicles (even tank battles occur if you want to jump in and participate), each with entirely unique combat characteristic and personality, making each plane a new experience.
Отзывы
0
Отзывов от покупателей не поступало.
В целях противодействия нарушению авторских прав и права собственности, а также исключения необоснованных обвинений в адрес администрации сайта о пособничестве такому нарушению, администрация торговой площадки Plati (http://www.plati.market) обращается к Вам с просьбой - в случае обнаружения нарушений на торговой площадке Plati, незамедлительно информировать нас по адресу support@plati.market о факте такого нарушения и предоставить нам достоверную информацию, подтверждающую Ваши авторские права или права собственности. В письме обязательно укажите ваши контактные реквизиты (Ф.И.О., телефон).

В целях исключения необоснованных и заведомо ложных сообщений о фактах нарушения указанных прав, администрация будет отказывать в предоставлении услуг на торговой площадке Plati, только после получения от Вас письменных заявлений о нарушении с приложением копий документов, подтверждающих ваши авторские права или права собственности, по адресу: 123007, г. Москва, Малый Калужский пер. д.4, стр.3, Адвокатский кабинет «АКАР №380».

В целях оперативного реагирования на нарушения Ваших прав и необходимости блокировки действий недобросовестных продавцов, Plati просит Вас направить заверенную телеграмму, которая будет являться основанием для блокировки действий продавца, указанная телеграмма должна содержать указание: вида нарушенных прав, подтверждения ваших прав и ваши контактные данные (организиционно-правовую форму лица, Ф.И.О.). Блокировка будет снята по истечение 15 дней, в случае непредставления Вами в Адвокатский кабинет письменных документов подтверждающих ваши авторские права или права собственности.